Nominations for Guldbagge (Swedish Film Awards) Amanda Ooms Best Actress
Winner Guldbagge Lia Boysen Best supporting actress
Nomination Grand Prix des Amériques Montréal World Film Festival
SEARCH (SÖK)
country: Sweden
year: 2004
genre: fiction
directed by: Maria von Heland
release date: SE 08/09/2006
screenplay: Maria von Heland
cast: Amanda Ooms, Mikael Persbrandt, Ulrika Malmgren, Lia Boysen, Pernilla August, Leif André, Johan Rabeus, Embla Hane, Kalle Westerdahl, Per Grytt, Jonas Malmsjö, Petra Nielsen, Linus Tunström, Madeleine von Heland, Anders Ekborg (voice)…
cinematography by: Peter Östlund
film editing: Jessica Congdon, Søren B. Ebbe
art director: Ingo von Heland
music: Nicklas Frisk, Andreas Mattsson
producer: Helena Danielsson, Maria von Heland
production: SFI- Swedish Film Institute/Svenska Filminstitutet, Hepp film (SE)
distributor: Sonet Film AB
sales agent: Trust Film Sales
Youthful, sensual nurse seeking partner. Lisa is 38 and still single. Her biological clock keeps ticking, and so she turns to Internet dating.
On the net things are just like in real life. Sex comes before love. Emotions kill. And nothing is quite what it seems. The stakes get higher, and Lisa gets ready to gamble everything.
SEARCH is a film about hopes, expectataions and broken promises. About sex, destiny and true love.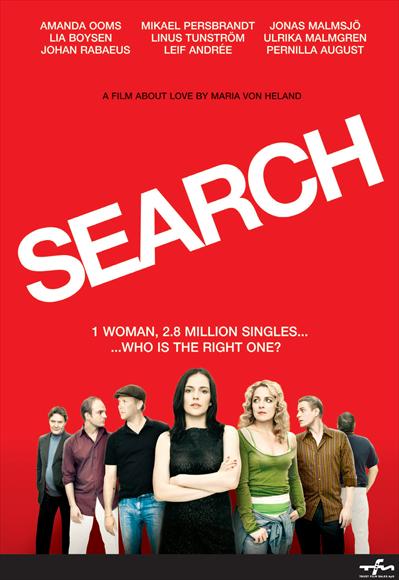 DOWNLOAD FILM
BUY THIS FILM (SWEDISH)
BUY THIS FILM (U.S)
This started out as an experiment. We had a bit of time on our hands, it was summer, my father was dying, Amanda Ooms had just returned to Sweden after many years abroad. Everyone was in some kind of a crisis and the best way out of it seemed to be to make a film, so we did. There were five of us in the team: My old friend Ingrid Rudefors (production manager), her (former) husband Peter Östlund (camera) and my brother Jesper Weissglas (sound/production) my husband Ingo (covering the missing departments) and myself.
We shot on Peter's video camera. Amanda managed to get practically every actor in Sweden to come shoot for a day or two. Everyone we knew helped out with something. I wrote the script on the morning of each shooting day. Amanda and I shared the responsibility for costumes and I did the make-up. We lived in a big house that a friend rented to us cheaply. My friend Jessica Congdon who had edited Big Girls Don't Cry came to sort out the footage. We got some money from Film i Väst. SVT got involved. Sonet wanted to distribute. Six months later we faced the disaster – the story was not really holding together.
We got a new producer involved (Helena Danielsson, Heppfilm) and I wrote a proper script – using the best of the material we had already shot. Then we shot again the following summer – slightly more people on the team, but the principle remained the same. It was tougher, though- for all of us involved. The refreshing madness of the summer before was gone. But, we did it. And that was fantastic. I went to Copenhagen and edited the film with Søren Ebbe at Zentropa. We got everyone back on the boat, much thanks to Gunnar Carlsson from SVT and Tomas Eskilsson from Film i Väst, and the film got a proper cinema release. To all of those who went on this adventure with us:. Thank you. Thank you. Thank you.
And here is a little outtakes video that Jessica Congdon cut after our first shooting period.