Writer/director based in Berlin Germany.
Speaks German, French, English and Swedish.
Represented Evi Bischop, Vizard London
NEWS:
Maria's series
Sunshine Eyes won the Special Jury Award in Series Mania INTERNATIONAL PANORAMA COMPETITION.
FOLLOW US ON INSTAGRAM: @SUNSHINEEYES.SERIES
LE FIGARO WRITES:

«Sunshine Eyes», Grand Prix de l'émotion
"Sunshine Eyes" …director Maria von Heland says she realised she was living through a historic moment and wanted to leave a trace of it. She wrote and shot the film in the middle of a lockdown, leaving a lot of room for improvisation on her initial plot to capture these turning points when the health crisis upsets the intimate. Sunshine Eyes, deeply rooted in reality without being anxiety-provoking, brings out a host of emotions. With its fluid direction, reminiscent of Gus Van Sant, and infinitely graceful actors, the series delivers a message of love and hope of rare kindness. LE FIGARO
Trailer SUNSHINE EYES.
"SUNSHINE EYES has a rawness and authentic voice that really sticks out in Germany. Because it looks like it moves into a spot that regular television entertainment doesn't dare to go to."
Gerhard Maier, Serien Camp Munich
Born and raised in Stockholm, Maria went to school in England and France. She has a Bachelor of Arts in Journalism from Rider University, New Jersey. She studied acting in New York and Paris, before obtaining an MFA in Directing for Theatre and Film from California Institute of the Arts, where she studied under Alexander Mackendrick.
Maria first attracted attention with her award-winning shorts "Chainsmoker" and "Real Men Eat Meat". Her critically acclaimed feature debut 'Big Girls Don't Cry' was released by ColumbiaTristar in 2002. The film lanced the careers of the German stars Anna Maria Mühe, Caroline Herfurth and Jenny Ulrich. The film is now showing on Netflix Germany.
'SEARCH', her second feature film was released in Sweden 2006. The psychological thriller 'Those who Whisper ' (SVT, 2x90mins), written and directed by Maria, starring Pernilla August, scored top TV audiences in Sweden 2006.
In 2007 Maria returned to Germany to direct and co-write the German adaptation of Richard Curtis' 'Girl in a Café', 'Suddenly Gina' for Sat1. She wrote the screenplay for Kai Wessels 'Hilde' starring Heike Makatsch which opened at the Berlinale in 2009.
In 2011 the award-winning Grimm-adaptation 'Die Sterntaler' (ARD) directed by Maria was aired for the first time – since a holiday favourite on German TV. In 2013 followed another Grimm-adaptation 'The Devil with the Three Golden Hairs'. Both films were Emmy nominated.
Maria's screen adaptation of Francois Lelord's bestseller "Hector and the Search for Happiness" starring Simon Pegg, Rosamund Pike, Stellan Skarsgård and Christopher Plummer enjoyed a major international release in 2014.
Maria has continued to attract millions of viewers with her TV films. For ARD/Degeto she directed the romantic drama 'Göttliche Funken' (2014) starring Devid Striesow, Anna Maria Mühe and Barry Atsma and the comedy 'Eltern und Andere Wahrheiten' (2017) starring Tom Wlaschia and Silke Bodenbender. For Sat 1 she directed the 90-mins pilot 'Jung. Blond. Tot.' (2018) which went into a series format. For ZDF she wrote and directed the comedy 'So einfach stirbt man nicht' (2019) starring Michael Gwisdek and two 90-mins thrillers with Anna Maria Mühe and Reiner Bock 'Solo für Weiss': 'Für Immer Schweigen' (2019, 5.91 Mi viewers) and 'Schlaflos' which aired in October 2020 (5,40 Mi viewers).
Maria wrote and created the 26-part TV-series 'Heirs of the Night' together with director Diederik Van Roojien which was released on television across Europe. Watch the trailer here. Heirs of the Night won the Children's Media Award Golden Sparrow 2021. In addition Maria von Heland won the White Elephant at Munich Film Festival for best TV series 2021 together with her co-creator Van Roojien.
In October 2020 Maria directed the 15th Film in ZDF's most popular format: Nord Mord Mord. The regular ensemble is joined by Hannelore Holger, Christian Kohlund and Nikolai Kinski. The film was premiered on Monday, March 15th, 2021, at 20:15 with record 10 Mi viewers.
During the first Covid-19 wave Maria co-produced and directed the 10×30 mins part dramaseries SUNSHINE EYES which is currently in post-production. SUNSHINE EYES stars Laetitia Adrian. The cast shows many new faces along with giants from the German film world such as Juliane Köhler, Stefan Kurt, Nina Petri, Tyron Ricketts, Stephanie Eidt and Jana Julia Roth, as all as stars from the international scene such as Tim Seyfi, Yussef Sweid, Barry Atsma and Itay Tiran. SUNSHINE EYES is currently making its way on the Festival Market.
Read Gerhard Maier's interview with Maria here
Hear the podcast here
Maria is the creator and writer for the upcoming series ALEA AQUARIUS based on the best-selling books by Tanya Stewner. The series is in produced by Dorothe Beinemeier (RED BALLOON FILM), Serge Bierset (DRAMADAMA) and Philipp Kreuzer (MAZE PICTURES). The series will be a German/Belgian co-production
Maria directed the 90min thriller "Kolleginnen – Für Immer" for ZDF starring Caroline Peters and Natalia Belitski in October. The film is in the final stages of post-production.
Maria started her production company Tindra Film GbR in 2021. Tindra Film is a Berlin based production company making local films for international audiences. Our focus is on developing feature films and high-end series, thinking out of the box to enable raw and unusual stories to be made. Tindra Film's first project is "Sunshine Eyes".
Her partners are Eric Holland and Johnny West.
2008-2018 Maria was the Creative Director and Head Writer for the European Film Awards. Maria lives in Berlin with her husband and four children. She works in English, German and Swedish and French.
These films of Maria's are available online on Netflix, Amazon or the ZDF and ARD Mediathek Platforms (depending on your location)
The Devil with the Three Golden Hairs
Solo für Weiss – Für immer Schweigen
Nord Mord Mord – Sievers und der Schönste Tag
Frühstück mit einer Unbekannten
Hector and the search for Happiness
Maria with the Blue Panther May 2012, the prestigious Bavarian Award: Best Directing for Star Talers!
The Jury made a special mention of her "love for the genre, care and skill". Star Talers was also nominated for an international Emmy 2013 and won the Best of Fest Award at Chicago International Children's Filmfestival .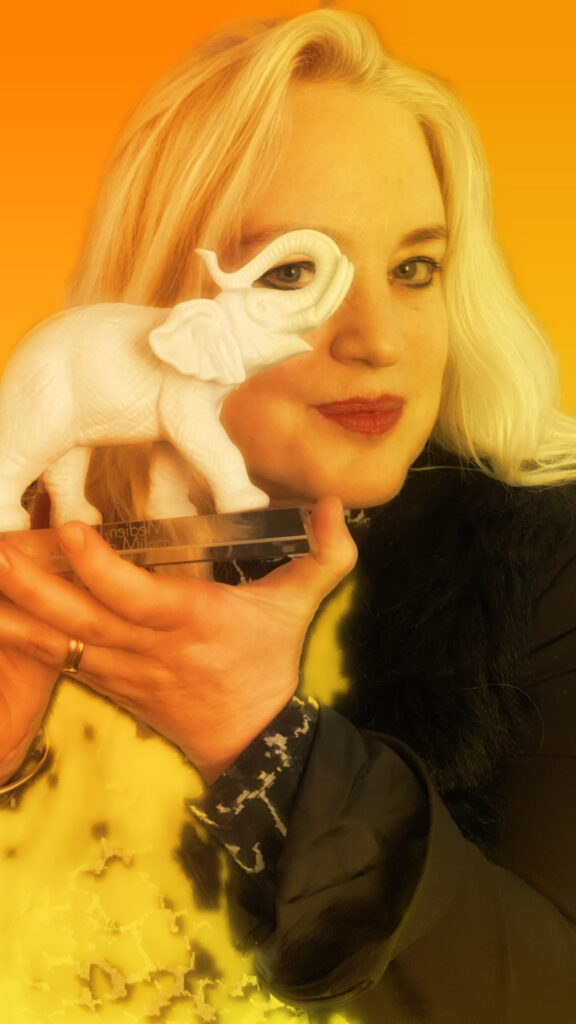 Maria with the White Elephant at Munich Filmfestival
for best screenplays for Heirs of the Night.
The Heirs of the Night also received the Goldene Spatz award 2021 and was nominated for an international Emmy 2021